I'm sure most of you reading this post are aware of the new SteamOS 3.0 that's shipping by default with the Steam Deck, with that much-needed interface overhaul for Big Picture Mode (also, it's Valve's first product to hit the number 3). Well, thanks to Reddit user GB_2_, it's possible to use the new Deck UI across any Windows or Linux desktop. For Linux, all you literally have to do is:
Navigate to ~/.steam/steam/package
Create a file named beta if it's not already there. Replace it's contents with steampal_stable_9a24a2bf68596b860cb6710d9ea307a76c29a04d
Save the file and close it. Launch Steam via the terminal with the -gamepadui argument
Seems like it's a pretty similar process on Windows as well.
It's possible to do this on ChimeraOS as well; alkazar82 added instructions on that Reddit post. It's neat to see that UI for a living room TV. Combined with the Xbox 360-like sounds, it really does feel like a console.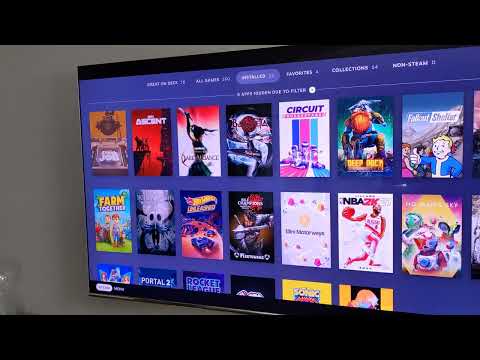 On my desktop with NVIDIA the Deck UI semi-works. It launches, with the nice Steam logo at boot time, but navigating across the menus is very laggy. Most of the games I tried launching just didn't work. The game would apparently be running but it just wouldn't display on the screen. Only successful game that I've tried was Them's Fightin' Herds. Not even Portal 2 ran. And I have to force exit Steam through my system monitor when I want to close it. There's probably a reason why it's not officially available just yet.
On my GPD Win 3, navigation across different menu items is very smooth, and Hades launched just fine. Sonic Mania hanged on the launching screen.
Some other screenshots on my desktop client: